Technology has not just impacted our habits, but also turned the tables in every sector. Right from finance, fashion, fast food, and of course real estate, technology is spreading its roots in a fast-paced manner.
With technology advancing, there have been significant positive changes in how people and businesses communicate. Whether we look at simplified functionalities or complex data sets, automation and machine learning models are everywhere. As the world constantly innovates and actively comes up with solutions, way-outs, and user-friendly gateways, financial or market disruptions and unprecedented global events continue to grow.
At some point due to the gradual but surprising leaps in technologies, we evolved and real estate is not an exception to this! New technological trends emerging in real estate have given rise to proptech i.e (Property technology).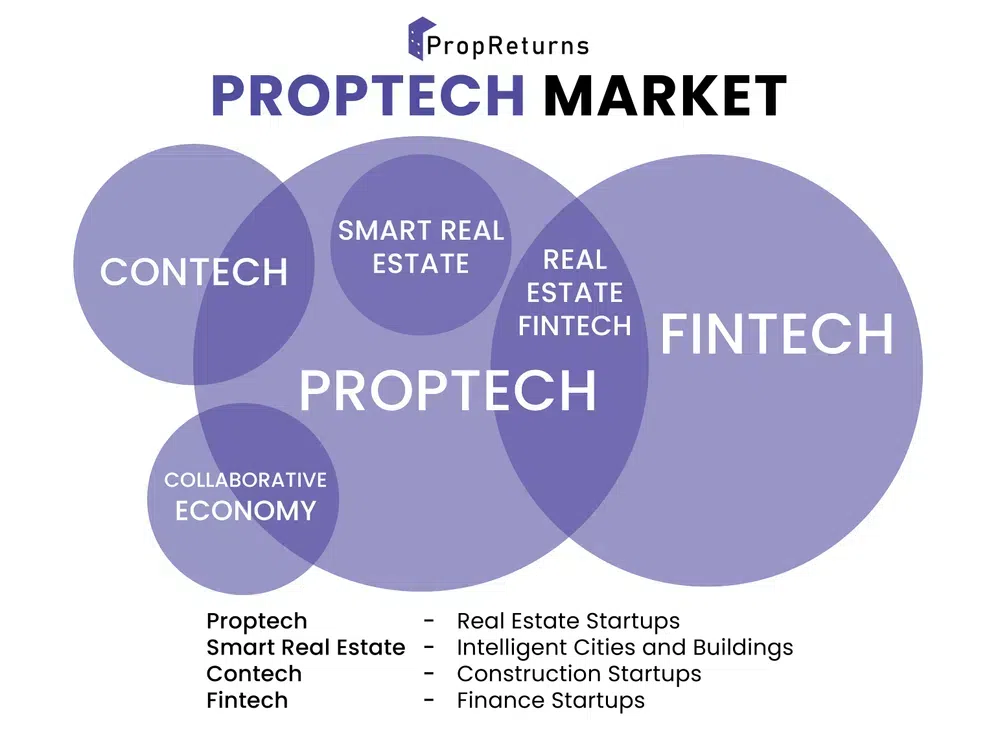 What is Proptech and its emerging trends?
Proptech is a technological optimisation of real estate investment tools used by the industry for simplified and convenient buying, selling, and investing in real estate. There are three basic branches of proptech-
Shared economy real estate:
These are usually the commercial properties that are shared or used by multiple businesses. Shared commercial spaces are very useful for expanding businesses and startups. It is the best commercial investment type in recent years.
Involving technology in property constructions to build smart structures, that are sustainable, automated, and have better connectivity. These are generally imbibed with modern gadgets, security systems, etc. for accessibility.
Fintech refers to finance management using AI that is generally used to facilitate costing, investments, and negotiations digitally.
Proptech has brought about many changes in the real estate industry as mentioned below -
Digitalization of real estate:
The use of digital twin technology grew significantly combined with a 3D model of the facility. Virtual reality for real-time visualization and a 360-degree tour of the property is used by the brokerage firms on an increased level.
Dependability on robotic process automation (RPA) for processing contracts and management. Usage of cloud-based platforms for virtual commercial real estate transactions.
Intensified the urgency for energy management information systems. Automation through IoT sensors and remote monitoring software applications surged to reduce the need for on-site staff. Remote working due to the pandemic shifted the focus from excess leased spaces to space occupancy management.
Is proptech the new fintech?
Fintech has redefined real estate in terms of financial management of all the investments, rental processes, selling and buying of the properties, etc in the real estate sector using AI, blockchain, data science, and machine learning. Fintech has optimistically impacted proptech in many ways. It won't be wrong if we say that proptech and fintech are interconnected terms that are responsible for the systematic processing of the real estate industry digitally.
Some of the terms that are newly introduced by fintech in real estate are :-
Cryptocurrency that is largely responsible for traders and investors making transactions of large amounts online has changed a lot of factors in terms of real estate investments. Crypto has also helped to streamline asset transfers and has simplified cross-border transactions for investors. People are nowadays literally buying and selling their properties in cryptocurrency. In Spain, there have been 2 cases of selling properties in bitcoin. The property that was sold was priced at 40 bitcoins that is equivalent to 555000 euros!
Blockchain has helped enhance transparency and efficiency in real estate investments. Especially in commercial real estate, where the transactions are huge and complex, blockchain acts as a support system to every aspect of fintech. By removing many of the inefficiencies in the key processes of buying, leasing, selling etc. it has evolved and upgraded the industry, brought up liquidity and has played a huge role in eliminating third party involvement in the management.
Metaverse real estate is the pixels of land in the virtual world. As physical properties, they can't be used to grow crops and build houses, as masses have done for generations. As opposed to real land, these are virtual pieces that belong to just you, and you retain ownership of them no matter where you are in the galaxy! This is probably the next level of fintech in real estate you'll ever find! Many investors investing in crypto and MFs have crazily begun investing in this platform.
A mutual fund kind of investment that is not invested in stocks but income-generating commercial properties. As the demand for new technologies in every sector is increasing, budding startups, developed businesses, etc need space to expand. Hence, shared commercial spaces are in demand. The increasing rate of development has increased the rental occupancy rate of these spaces. So, these spaces generate higher income ultimately. These spaces are listed on the IPO and the investors who invest in these spaces get a share of the rental income. The returns are higher, and you get a diversified portfolio and a safe investment option too!
Crowdfunding is an opportunity for small real estate investors to fund big projects and hold ownership of certain parts of the property. It is all about raising funds for real estate investments by reaching out to the pool of investors. It is an excellent way of raising capital without paying upfront fees. Also putting out your project online and asking investors to crowdfund simultaneously helps with marketing and media attention too!
Some stats and facts on proptech and fintech to co-relate.
💵 It is anticipated that the Indian commercial real estate market will grow at a CAGR (Compound Annual Growth Rate) of approximately 13 percent during the forecast period (2022-2027)
💵 America has a population of 145 million people who invest in REITs. While REIT is newly introduced in India, it has been a popular investment type around the world for a very long time. Approx. 80% population of the world invests in REITs. Commercial spaces are gradually becoming a source of passive income for investors!
💵 According to the KPMG report, more than 62% of corporate companies now view proptech as an opportunity.
💵The total number of real estate tech deals has increased steadily between 2014 and 2020, totaling 501 deals in 2020 alone. This period saw an increase in the average value of PropTech lending deals, which rose from $3 million in 2014 to over $20 million by 2020 due to fintech.
💵 40 – 45% of affluent investors who switched investment firms did so to utilise solutions provided by FinTech.
💵 According to Forbes, in a recent report Pew report, Millennials consider AI and big data as a trusted way of investments, including real estate investments.
Future of real estate that is emerging into fintech -
Despite real estate revolutionising and starting a fresh chapter with digitalisation, there is still not much awareness in India of how convenient proptech can be! Automation, eradication of middlemen, transparency, and improved data management can all be achieved through technology in real estate.
Also, lesser frauds and more education on legal terms are a big advantage of proptech. Blockchain can help people to be authoritative of their own information rather than being dependent on a third party and related firms. Plus fintech in real estate can help commoners invest better, transact better nad choose better too!
It is high time that people adapt to the consecutive changes that are done for the best in technology and also use the facilities wisely. We can't ignore the fact that online frauds do happen apart from the feasibility technology provides! So being realistic in terms of using a technology is must especially while investing in real estate.
When it comes to safety and best advice regarding realty investments and returns, Propreturns.com is the answer! Scroll through and prosper!