Have you ever even thought about purchasing land or property which is not on earth or doesn't even exist in reality, right? But did you know, with the changing time and parallelly changing real estate sector, we have a thing called virtual real estate- Metaverse real estate! Even though it's relatively new, metaverse real estate has already got many big market players like JP Morgan and Samsung enthusiastically investing in it! Many people spend millions and trillions of dollars to invest in a piece of land that's not even physically there!
Hmmm…sounds like something big right? Well, it is, because according to the Bloomberg analysis report, the metaverse is going to become an $800 billion market by 2024. Metaverse real estate at first impression seems to be a very farfetched concept but we can't deny the fact that technological advancements might make metaverse real estate investments a popular trend and will cover a majority of the world's population going forward. Amazed? Then let's understand this better!
What's Metaverse real estate?
Metaverse real estates are the parcels of land in the virtual world. To be more precise - they are mere pixels. However, they are more than just digital images - they are programmable spaces in virtual reality platforms where one can socialize, play games, attend concerts and do numerous other activities that you can do in the real world. Non-fungible tokens (NFTs) are used to purchase, sell, and exchange the land, which can be bought, sold, or exchanged for cryptocurrencies or fiat currencies. In addition to creating experiences, users can play games, socialize, host events, and more in digital spaces. As the transactions of NFTs are recorded on a blockchain, the ownership over the land and the digital assets therein can easily be proven.
Why do people invest in metaverse real estate?
Sometimes, buying land becomes challenging due to inflation and other demographic, social, personal, and economic reasons. At such times, the metaverse gives people a chance to seek ownership and get possessions of virtual real estate. Well, there are other reasons associated with it. Metaverse real estate gives flexibility in every livability aspect that sometimes physical real estate lack. It is more secure in terms of transactions and you have the authority over your actions rather than depending on or trusting a third person in property buying.
In short, you get to enjoy all the benefits of physical real estate, but in a more easy, manageable, and authoritative way.
People invest and use their metaverse land in many different ways. Listed below are a few of them-
1) Infrastructural developments- Many metaverse investment enthusiasts, buy a piece of land and build a cluster of properties or entertainment destinations for people to utilize. This includes digital casinos, clubs, art galleries, stores, malls, gated communities, etc.
2) Brokering- Lately, the metaverse real estate world is seeing the emergence of brokers who deal with virtual properties just like real-life properties. They help sell properties to prospective buyers or simply give advice on property management to their clients!
3) Advertising- Areas of the metaverse with heavy foot traffic are becoming increasingly attractive for advertising. Companies can advertise their products and services on land that is rented out by landowners.
4) Services- Many financial organizations are expanding their businesses, not only in physical real estate but also in virtual real estate. JP Morgan and HSBC are now giving their clients an opportunity to interact with their staff and operate their finances in the virtual world too! In fact, a lot of financial services have started in the virtual world, like metaverse mortgages, real estate lending, crypto transactions, etc.
Just like in the real world, where there are numerous real estate investment platforms or apps, the metaverse real estate can be bought on various platforms-
Decentraland-
Decentraland is a 3D virtual world and purchasing land here needs MANA tokens. When Decentraland was launched in 2017, parcels of land were sold for $20 and MANA tokens for $0.02. The game's first map, Genesis city was made up of 90,666 parcels. After 2021, the parcels of land were sold for $6000-$1,00,000.

In addition to the decentralized ledger for land ownership and the protocol for describing the contents of LAND parcels, the platform includes a peer-to-peer network for users to interact.

Decentraland is governed by DAO(Decentralised Autonomous Organisation). This enables users to vote on metaverse real estate policies.

As of December 2021, the platform has a market capitalisation of $6.8 billion. In addition to buying real estate, users can sell their plots, rent properties like hotels, casinos, theatres, etc, play games, and build communities.

Decentraland is a thriving marketplace where people and brands design their own products and sell them to a unique in-world community. For creators and brands, these districts give them more targeted traffic that enables them to bring their content to specific audiences.
Sandbox-
Sandbox dominates the metaverse real estate by occupying 62% of the entire market space. You can buy or rent virtual spaces for various use. There are family homes, commercial spaces, art galleries, and hangout spots of different sizes.

This platform is a UGC (User Generated Content) platform. So, everything here is built for the community by the community.

'SAND' is the token used to buy, rent and transact in this platform. Sandbox users buy, sell and trade voxel creations.

In the past few years, Sandbox has created partnerships with famous game companies like Atari, famous celebrities like Snoop Dog, and brands like Sheep and Shaun.
Cryptovoxels-
Cryptovoxel is built on the Ethereum blockchain. This platform helps make financial decisions in the user's favour without hurting the community sentiments on the platform.
Through the Cryptovoxel website, one can easily enter the metaverse world. Here, parcels of land are authoritative; no third party can access them but only the owner and their acquaintances. If you are interested to buy a parcel of land, you are supposed to create your own URL and share it with your friends and relatives. They can then access your parcel through the teleport link.
Cryptovoxel's total trading amount over the last 7 days is $45.5k and the land here is priced at $5,000.
Cryptovoxels, however, do not have a native token. The Cryptovoxels metaverse no longer accepts the $COLR currency that was used in the web-based metaverse. In the Cryptovoxels platform, ETH is used for all land purchases and asset sales.
Somnium-
Somnium space is a blockchain virtual reality metaverse that is completely built by the players. This virtual space is divided into 3 different sizes, small, medium, and large. You can choose from waterfront or roadside properties to build your own space. You can import objects such as avatars and monetize your digital assets.

In Somnium, land parcels and in-game assets are tokenized. Ethereum and Solana blockchains are used to authenticate and record ownership.

A median of $11,500 is charged for parcels in Somnium Space. In February 2022, the most expensive lot was sold for $43,100. It is still possible to purchase smaller parcels for around $2,000 to $4,000 for those with limited funds.
These were the big 4 metaverses in the virtual real estate market. There are many other platforms like Star Atlas, Axie Infinity, Bit Country, etc. Like other physical property investments, metaverse real estate investments have a buying procedure that is to be followed.
So, how to buy real estate in the metaverse?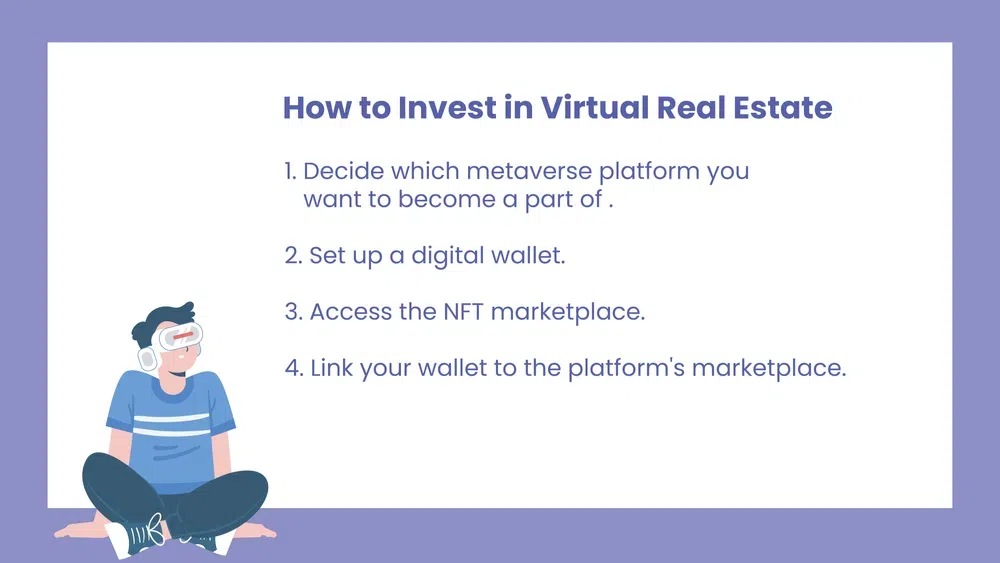 Buying real estate in the metaverse is the same as buying NFT. Your deed of ownership is a unique code on the blockchain. This code is what certifies you as the owner of the property or the piece of your digital land.
You also need to have a crypto wallet to get started with your metaverse real estate portfolio. Before signing up for a new wallet, you might want to check out some platforms that use specific cryptocurrencies. For instance, Decentraland needs MANA tokens to buy assets, Sandbox needs SAND tokens, etc. Sign up for an account on the virtual metaverse platform. Buying land and other assets will link your digital wallet to the platform. Select a parcel of land and purchase it.
But is metaverse real estate investment worth it?
Metaverse real estate has gained popularity in the past 5 years. So, it is a new concept. We have mentioned below a few statistics and facts for you to assess if you should invest or not.
The metaverse real estate market share is expected to increase by USD 5.37 billion from 2021 to 2026, at a CAGR of 61.74%.
It is anticipated that sales of real estate in the metaverse this year will double to $1 billion, up from $501 million in 2021.
A research study that put the market size value of the metaverse at $47.69 billion in 2020 forecasts the same market to have a revenue of $828.95 billion in 2028.
The metaverse real estate market growth will increase to $5378.55 million during 2022-2026.

A few risk factors and rewards to consider before investing-

First, let's take a look at the rewards-

Profit from multiple income sources- The metaverse space like Decentraland helps us create multiple income sources by giving us an opportunity to buy land and build commercial properties like malls, office spaces, warehouses, etc., and rent these properties later. Also, these properties appreciate and the rent received on these properties is in the form of native tokens. This helps to give trade these tokens in cryptocurrencies. This allows you to reinvest your tokens into crypto and generate wealth efficiently.

It is a boon to become a metaverse landlord- Big brands like Adidas, Atari, Sheep, etc. are booming into the metaverse real estate in order to build their spaces, or rent/buy one. So, building commercial spaces will prove to be a huge profit for you.

Low maintenance costs- Maintenance costs in the virtual world are way cheaper than in the real world. In the virtual world, you do not have to deal with property inspections, municipality rules, and restrictions. You can independently construct whatever you like on your land. In addition, you won't be subjected to tenant rules and fixed rents. Your property is yours and you can sell it or rent it at your convenience.

Certain risk factors include the following-
Risk of losing your investments- Though people are earning millions of dollars through metaverse real estate investment, someday, if these platforms become nonexistent, or get closed for some reason, you might lose your investments with them.
Metaverse scams- As metaverse and crypto are gaining momentum, there are many platforms booming in the market. But no one can guarantee the credibility of these platforms. Hence it's advisable to invest in a credible and well-known platform followed by thorough research on the same. Besides, while dealing with a broker on the metaverse land, be sure to deal with only those who are reliable as these brokers do not have authorised IDs like in the physical world, and hence frauds are sure to happen.
Metaverse real estate is a boon to investors as there is a lot of scope for wealth generation. With blockchain being at support, this concept has gained momentum by providing security and shortened investment procedures. Due to the technological advancements and the rise of PropTech in real estate, Metaverse investments are here to stay. By taking care of the risk factors and with wise decisions, one has a significant scope to leverage this platform and get the most out of it!