Table of content
Brookfield asset management in Canada became Brookfield REIT of India
How did the asset management company become REITs in India?
Brookfield REIT assets
BrookField's REITs performance
Brookfield's dividend history
Should you invest in Brookfield REIT?
Brookdrop management services, the manager of Brookfield REIT declared a dividend of Rs 170.8 crore or 5.10 per unit to unitholders for the June quarters bolstered by high occupancy and timely rental payments. The company has generated 170 cr. NDFC (Net Distributable Cash Flow) or Rs.5.13 per unit which is equivalent to the profit incurred by the company and is completely distributed to the unitholders as dividends as per the SEBI rules.
Brookfield REITs have significantly performed well since its launch in the year 2020. Especially, during the pandemic times, this newly launched REIT company has paved its way to managing quality campus-style office parks in prime locations to provide numerous investment perks to their investors. If you are looking forward to invest in Brookfield REIT, let's dive deeper to understand the scope of investment in this buzzed real estate investment trust.
Brookfield asset management in Canada became Brookfield REIT of India
Started in 1899, as a Sao Paulo Tramway and light company, by William Mackenzie and Frederick Stark. The then São Paulo Tramway light and power company was renamed as Brascan company in 1970, and later came to be known as Brookfield Asset Management Company. A total of $10 billion was invested in Brazilian energy, infrastructure and real estate projects by the company and its subsidiaries between 2013 and 2018, including the acquisition of oil pipelines from Petroleo Brasileiro.
Brookfield has now become Brookfield Asset Management Inc. with over US$725 billion assets under management in 2022. Brookfield is one of the worl'd largest alternative investment management companies which operates direct control investments in real estate, renewable power, infrastructure, credit, and private equity.
Having its headquarters in Toronto, the company has its corporate offices in New York city, London, Sao Paulo, Mumbai, Shanghai, Dubai, and Sydney.
How did the asset management company become REITs in India?
On July 17 2020, Brookfield REIT was settled by its manager, Brookdrop Management Services, under the Indian Trust Act 1882 pursuant to a trust deed. SEBI registered Brookfield REIT as a real estate investment trust on September 14, 2020, in Mumbai. Brookfield started its operations in India by investing in the real estate and small infrastructural bets. Brookfield had deployed nearly $10.5 billion under its infrastructure asset class in the last three years as of 2021. BAM (Brookfield Asset Management) purchased Reliance Industries' telecom tower (Reliance-Jio Towers) business through Brookfield Infrastructure Partners L.P. in August 2020. It has invested $7.6 billion with its institutional partners. Despite its experience in asset-heavy sectors, Brookfield made its first pure-play private equity investment in India in 2020. In two deals in the year 2020, Brookfield had already deployed $1.5 billion under the leadership of Aditya Joshi, its managing director for private equity.
Brookfield REIT assets-

SPVs are created solely to hold property on behalf of customers. For unitholders, the AMF(i.e. Asset Management Firm) manages the SPV and the underlying property. Basically, an Asset Management Firm pools the funds of multiple investors in an asset (be it stocks, bonds, or real estate) which has growth potential. The Asset Management Firm forms an SPV under which, these assets are kept and unit holders invest their funds in these SPVs.
A walk through of all the properties-
1) Kensington Powai, Mumbai-
This grade-A office space is a special economic zone complex located in Powai and Andheri Micro Markets. It is uniquely positioned as the only IT/ITes Special Economic Zone in Powai. This office park is situated in the Hiranandani Gardens, which is a modern township comprising residential towers, hospitals, office structures, etc. The live work-and-play environment around this property is getting enormous attention by corporate occupiers around the area. The office park will further benefit from infrastructural development around, like metro construction.
| Land size | Occupancy rate | Leasable area | Key tenants |
| --- | --- | --- | --- |
| 9.0 acres | 90% | 1.6 msf | Cognizant, Wipro, TCS |
2) Candore tech space, sector 21 Gurugram-
Candor Techspace, Sector 21 is the largest office economic zone located in Gurugram. In proximity to luxurious malls, residential areas, and NH-48, it is the most accessible workspace. It consists of a gymnasium, food courts, multi-level car parks, ATMs, medical facilities and much more! This gives tenants a one-stop live-work and play ecosystem around the widespread campus.
| Land size | Occupancy rate | Leasable area | Key tenants |
| --- | --- | --- | --- |
| 28.5 acres | 83% | 4.0 msf | Sapient, Accenture, RBS Amdoc |
3) Candor tech space, sector 135 Noida-
Candor TechSpace, Sector 135 in Noida is the city's largest IT/ITeS special economic zone. The integrated ecosystem has large sit-out areas, recreational areas, and modern amenities. Its location on an 8-lane expressway with easy access to large residential catchments has attracted a lot of occupier interest, as it is located on a busy expressway. Now that Tower 11 has been added, the campus now consists of 13 completed buildings covering 3.6 million square feet, creating a world-class working environment.
| Land size | Occupancy rate | Leasable area | Key tenants |
| --- | --- | --- | --- |
| 29.7 acres | 80% | 4.5 msf | Samsung, TCS, Genpact, Telus |
4) Candore tech space, Rajrhat Kolkatta-
As the main connecting road to Kolkata, Bishwa, Bangla and Sarani run along the Rajarhat micro-market. It is also close to large hospitals, prestigious shopping malls, a convention center, premium educational institutions, and modern, affordable housing. Candor TechSpace, Rajarhat, Kolkata has 12 completed buildings aggregating to 3.1 M sf of the completed area and 2.7 M SF of future development potential. There is a 3 acre plot of land outside the Special Economic Zone area at Candor Techspace in Rajarhat, Kolkata, is going to be developed as a mix development block.
| Land size | Occupancy rate | Leasable area | Key tenants |
| --- | --- | --- | --- |
| 48.4 acres | 84% | 5.4 msf | Genpact, Capgemini, Cognizant, Accenture |
5) Candor TechSpace, Sector 62, Noida (N1)-
Candor tech space, sector 62, Noida (N1) is one of the largest IT park in sector 62, which is located in Noida micro-market in terms of leasable area. It has a potential of expansion to its occupiers via onsite development. Candor tech space 62 Noida has 1.9 Msf completed area and a huge development potential of 0.9Msf. With a proximity to Delhi, and its location in a prime spot of sector 62, Noida micro market. It has a great connectivity to Delhi through 14 lane expressway and the metro rail. The office park as an array of amenities like retail stores, ATMs, day care centre, salon, and safety like fire and disaster, pharmacy and a lot more!
| Land size | Occupancy rate | Leaseable area | Key tenants |
| --- | --- | --- | --- |
| 19.3 acre | 77% | 2.8 msf | Barclays, Amazon, ION trading |
BrookField's REITs performance-
Brookfield India, in 2021, had acquired Candor tech space N2 for Rs.3,970 crores. The company had agreed to take 100% stake of the Seaview developers pvt ltd. lts, owning the Candor tech space N2. According to Alok Aggarwal, Brookdrop management, Candor TechSpace N2 is an irreplaceable property with the best-in-class tenancy. The campus is almost complete at 100% effective economic occupancy.
Brookfield REITs have added 8 new tenants in its REITs assets in the year 2022. Additionally, its gross economic occupancy stands at 87% this year. It has acquired sustainability certification in about 74% of leased areas.
They are exiting FY2022 with gross leasing of 1.6Msf across their assets. This includes 1.2 msf of new leasing and 0.4MSF of renewals. The company has also signed expansion proposals of 0.3 msf in 2022. Brookfield has also witnessed a 9% average escalation on 2.8 msf of leased area. The rental income of the company stood at 99% as a result of this, it has decided to offer 171 crores of dividends to its unit holders. Brookfield REIT has given stable returns of 8% since it has been listed on the IPO.
Operating lease rentals rose 26 per cent to Rs 200 crore over the corresponding quarter last year, most probably because of the addition of Candor tech space N2 in the Brookfield portfolio. The company saw a 6% increase in organic growth from the previous quarter as the gross leasing remained positive 311,000 msf. The company has an acquisition pipeline of 6.4 msf as there is a robust demand for quality assets.
Brookfield's dividend history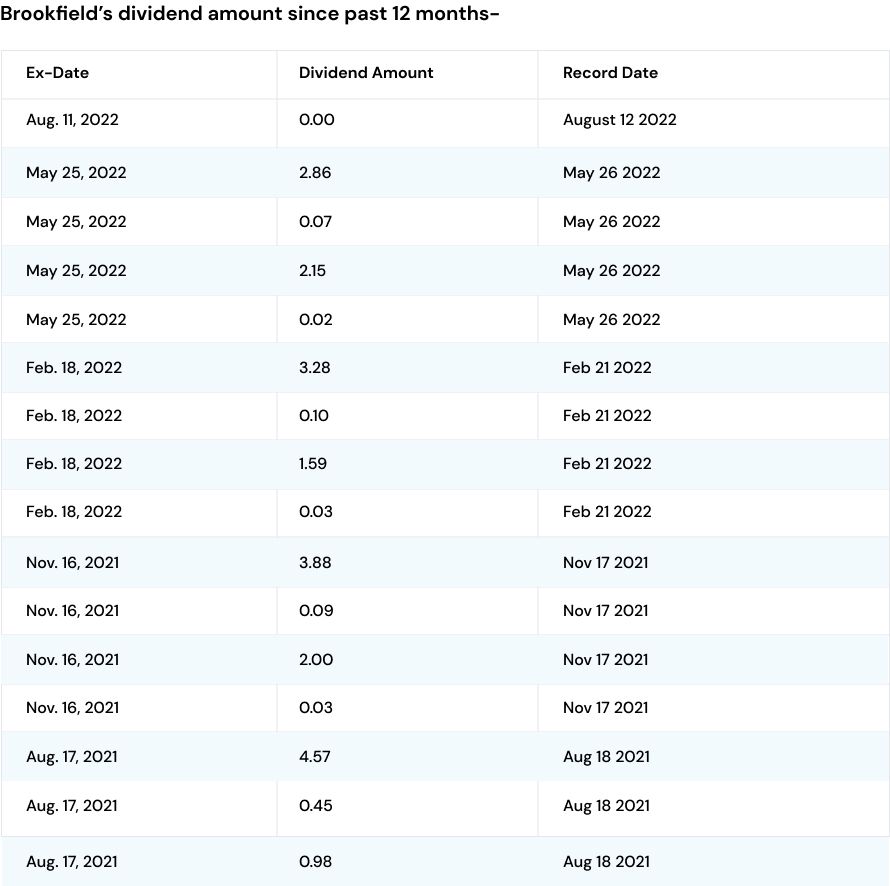 Should you invest in Brookfield REIT?
1) Tenant diversification-
Brookfield has a 75% gross rental contract(i.e a pre-determined set rental amount regardless of the price fluctuations in the rents of that particular month) with a diverse base of prestige tenants. These tenants represent various industries and are renowned MNCs. This ensures good reliability of high returns. Additionally, the tenant base of the Brookfield REIT has been their occupiers for several years.
2) Rent and occupancy-
Leasing Rents at the Initial Portfolio have grown at a faster rate than comparable non-strata properties in its micro-markets. The outperformance has been augmented by the scale of the assets, extensive amenities, their modern facilities and infrastructure, the integrated campus experience, and proactive asset management initiatives. The total rental income of the REIT company is a positive 99%, giving profitable dividends to its unitholders this quarter.
3) Good portfolio and space to expand
The portfolio has an extended lease expiry profile. This will increase the Mark to Market to 34% by FY23. As of Q2FY22, the NAV of Brookfield REIT stands at Rs.324. The company has Right of First Offer (ROFO) on certain properties owned by Brookfield Group. These new assets have the potential to-
-Increase the total leasable area to 25.3 msf -Increase Net Operating Income (NOI) by 25% over a period of 2-3 years.
Brookfield REIT, in a short span of time, has created a dependable and staggering profile on IPO.
However, some of the properties with low occupancies, for instance- Candor tech space, Kolkata (77%) can be a downside. Brookfield REIT can prove to be a good long-term investment option, giving a better yield after 3-5 years.
If you have liked this article, don't forget to check out our descriptive article on REITs and head to our REIT page to invest!